Floats Like You Haven't Seen Before... Probably
Ever been in a situation where you make several variables with the suffices min/max to establish ranges?

You know, for example when you want to have a random number that is between other two? Or when you simply want to establish clamp limits for something?

Well, this is what RangedFloat s are for. I DO have seen other solutions for this, in fact, some are incorporated in the present version. But they either relied on Vector2 (which sucks for simple minds like mine that can't remember that x = min, or whatever), or didn't have that many options, so you may call this a Frankenstein monster of those. Enjoy~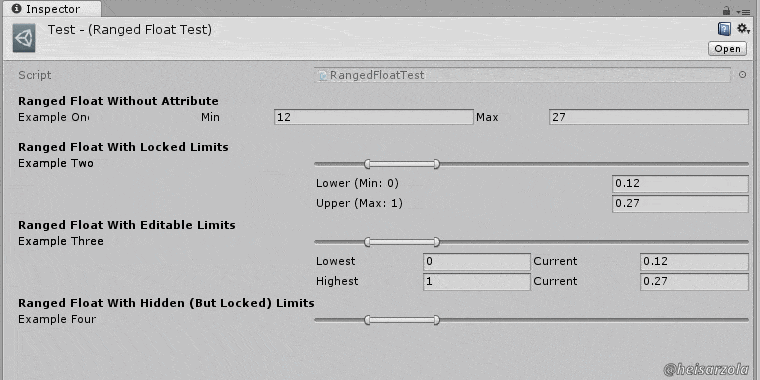 After downloading the tool, it is very simple to use:
[RangedFloat(0,1)] // (min,max)
public RangedFloat myRangedFloat;

It actually comes packed with a couple of examples, and additional customization options, to be sure to check them out.
Download it for FREE!
---
You just read about one of several FREE tools that you can get on the Unity Development Tools Repository. Again, they are FREE so just go see them, there are neat things in there~
See all of the tools!
---
RangedFloats are a thing I added in my arsenal after a bit of inspiration from other creator's content. And I've used them ever since.

I just hope it becomes useful to someone else out there.
But Regardless of What You Do, And Like Always…
Thank you very much for reading my blog :3
---
Do you make games? Then I got something for you.
Given how you are reading about Unity tools, just wanted to extend you an invitation to subscribe to the GAME DEVELOPER newsletter for FREE.
Don't worry, you will ONLY receive notifications on game development content, which include helpful game development tutorials, tips and tricks, and updated on new FREE dev tools directly on your inbox.