Do You Consider Visual Studio Bland And Boring?
Ever felt that the act of writing code is boring? Not talking about coming up with the hows and whats, but instead that each individual key press itself isn't thrilling at all.

"Isn't that how it is supposed to be?" I hear some of you ask, but the short answer would be: "Only if you want it want it to, sure."
Well, this little plugin will help you with just that. Brighten up your Visual Studio application (maybe even too much…)

Oh and don't worry, it is completely tweak-able and FREE to boot, so give it a shot!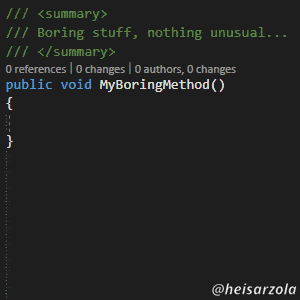 Meet Power Mode For Visual Studio, a powerful replica of a plugin once only available to the Atom Editor.

Ensure every single key press overflows with POWER and reflects your coding DETERMINATION.

(And don't worry, you can always disable the shaking or reduce the particle amount if this is too overwhelming :P)
Get it for FREE
---
What you just read about was ONE of several programmer tips that are available on the Programmer Tips Wiki.
So if you liked the one you just read, be sure to check it out (or star it) as it gets updated often! 😮
Read More Programmer Tips!
---
Don't know when you will end up reading this, but this was written on Jan. 1 2018. With that in mind…
Please take this plugin with you and start full power your new year 🙂
Which, also concludes the first post of the year! And you know how this goes…
But Seriously...
Thank you very much for reading my blog :3
---
Do you make games? Then I got something for you.
Given how you are reading about Unity tools, just wanted to extend you an invitation to subscribe to the GAME DEVELOPER newsletter for FREE.
Don't worry, you will ONLY receive notifications on game development content, which include helpful game development tutorials, tips and tricks, and updated on new FREE dev tools directly on your inbox.