No Need To Stick With Old Unity Conventions
If you have been using Unity since quite some time ago, chances are you are unaware of some new goodies that were stealthily added to it.

This is just a little tip to avoid going through the process of creating a new component on the target GameObject, copy-pasting the settings from the original one, and deleting said component from the original to "pass it".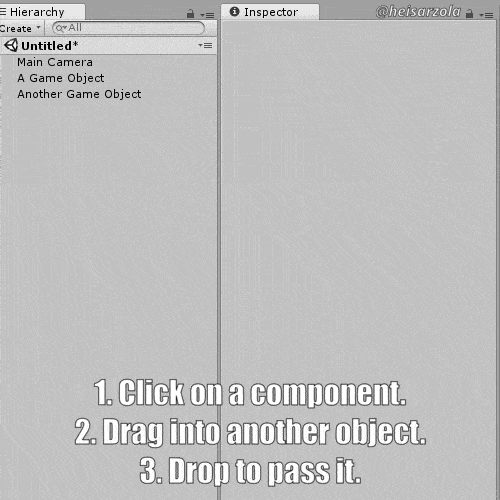 As explained above, in older Unity versions, you had to do a whole copy-paste-delete maneuver to copy one component into another game object.

However, MANY seem to be unaware of that as of right now, you can simply "pass it" via drag and drop.
See The Wiki Entry
---
What you just read about was ONE of several unity tips that are available on the Unity Tips Wiki.
Please also note that the wiki is updated often, so make sure to check it out!
Read More Unity Tips!
---
The newest versions of Unity come packed with little hidden tweaks like this. But minor as they might be, it is worth spreading the word on them, right? 🙂
That would be all for today from my part.
But Like Always…
Thank you very much for reading my blog :3
---
Soooo you like Unity huh? Do you make games? If so, I have something for you.
Given how you are reading about Unity tools, just wanted to extend you an invitation to subscribe to the GAME DEVELOPER newsletter for FREE.
Don't worry, you will ONLY receive notifications on game development content, which include helpful game development tutorials, tips and tricks, and updated on new FREE dev tools directly on your inbox.