Convert Files Without The Hazzle
Sometimes, you may need that hi-quality .jpg image in a .png format because a site needs it like that.

Other times, you may require that .wmv video to be .mp4 (because many hate to support .wmv apparently).

But that is the point I'm trying to make. If your work involves visuals of any kind, you will eventually need to pull this kind of conversion black magic up from your sleeve. (Needless to say if you are a game developer).

Which is why I wanted to use a neatly packed, but powerful FREE, ONLINE tool to solve just that.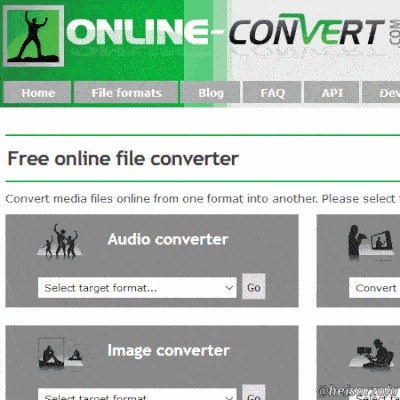 No paywalls, no un-skippable ads (or ads for that matter), no limits, no download required.

Just visit the site and use immediately.

But here is another little tip for you: If you like it, make sure to add it to the toolbar of your web browser. It is as simple as drag and dropping it there (at least for Firefox). So you can access it on the click of a button:




Use It NOW!
---
This is but one of MANY tools that you can quickly find in the the Software Suggestions section of the website.
New ones are constantly updated, so check out often!
See More Recommended Software!
---
Hope this gets to save you some headaches from the sometimes ridiculous media upload requirements on certain sites. (As it has saved myself)

You just never know when you might need it, so wouldn't hurt to bookmark it either right?
Just wanted to spread the word.
This Concludes The Post, But Like Always…
Thank you very much for reading my blog :3
---
Soooo you like Unity huh? Do you make games? If so, I have something for you.
Given how you are reading about Unity tools, just wanted to extend you an invitation to subscribe to the GAME DEVELOPER newsletter for FREE.
Don't worry, you will ONLY receive notifications on game development content, which include helpful game development tutorials, tips and tricks, and updated on new FREE dev tools directly on your inbox.